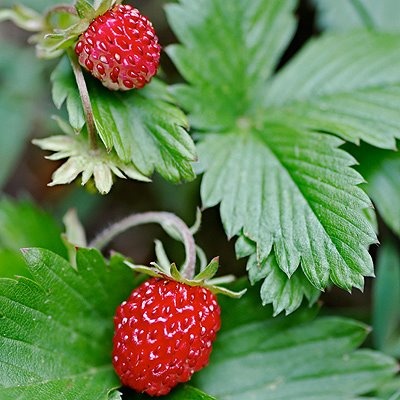 Alpine Strawberry Napoleon
(c)2003 Martha Stewart Living Omnimedia, Inc. All Rights Reserved.
Total Time:
1 hr 23 min
Prep:
30 min
Inactive:
30 min
Cook:
23 min
Yield:6 servings
Level:Easy
Ingredients
1 standard package (17 1/4 ounces) frozen puff pastry, thawed
1/2 cup plus 2 tablespoons confectioners' sugar
1/2 cup heavy cream
1/2 cup creme fraiche
1 vanilla bean, split and seeds scraped
2 pints strawberries, preferably Alpine strawberries
Raspberry Coulis, recipe follows
Directions
Preheat the oven to 350 degrees F.
Unfold puff pastry and place 1 sheet on each of 2 baking sheets. Bake until the dough has puffed, but is still soft, and not yet browned, 7 to 10 minutes. Set a wire rack directly on top of the dough, and press gently to flatten to about 1/8-inch thick. Continue to bake until lightly browned, 8 to 10 minutes. Let cool on a wire rack.
Transfer cooled pastry to a cutting board. Increase the oven temperature to 475 degrees F. Using a serrated knife, cut the pastry into 18 (2–by-3-inch) rectangles. (If you have extra pastry, cut out a few more rectangles to replace any that break.) Evenly dust the pastry with 1/2 cup of confectioners' sugar. Return to the baking sheet and bake, until the sugar is melted to a glaze and the pastry is browned, 2 to 3 minutes. Transfer to a rack, and let cool. (This can also be done under a broiler if watched very closely).
In a medium bowl, combine the heavy cream and creme fraiche. Add vanilla seeds and remaining 2 tablespoons confectioners' sugar; whisk until stiff. Transfer the whipped cream to a disposable pastry bag. Cut about 1/2-inch from the tip of the bag with scissors. Pipe a 1/4-inch-thick layer of whipped cream over 12 of the pastry rectangles. Cover with a single layer of berries. Top 6 of the berry-topped pastries with one of the remaining 6 berry-topped pastries. Cover each with reserved plain pastries. Transfer each napoleon to a dessert plate, and drizzle each plate with about 2 tablespoons raspberry coulis.
Raspberry Coulis:
1 pint raspberries
2 to 3 tablespoons superfine sugar
Place the raspberries in a medium bowl. Using a fork, mash the raspberries to release some of the juices. Stir in the sugar, using just enough to take the edge off the tartness. Let them macerate for 20 to 30 minutes. Transfer to a blender or food processor, and puree until smooth. Strain through a fine mesh sieve to remove the seeds. It may be necessary to add a little water to thin the coulis.
Yield: about 1/2 cup
(c)2003 Martha Stewart Living Omnimedia, Inc. All Rights Reserved.
Read more at: http://www.foodnetwork.com/recipes/alpine-strawberry-napoleon.html?oc=linkback