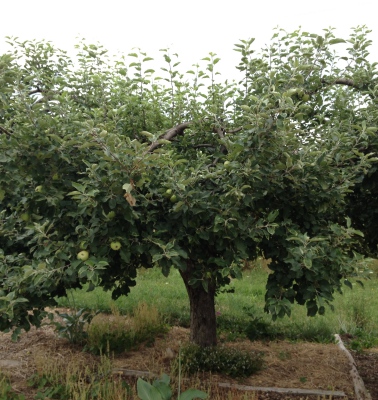 Malus domestica: 20' high x 20' wide / full sun / zone 3
We carry a few of the hardiest, most disease-resistant apples available for easy organic growing (all on B118 semi-dwarf rootstock), including:
Freedom – Named for freedom from disease, this apple is resistant to scab, mildew, cedar apple rust and fireblight.  McIntosh type with sweet flavour and juicy white flesh.
Golden Russet – A favourite of many, the fruit is great for fresh eating.  Resistant to scab, canker and powdery mildew.
Liberty – One of the most disease-resistant varieties available, having resistance to scab, mildew, fireblight and cedar apple rust.  Fruits have bright red skin with sweet, creamy flesh.
Novamac – Resistant to scab, canker, and fireblight.  Fruits is very similar to McIntosh, but sweeter.
Redfree – Resistant to scab, cedar apple rust, moderate resistance to fireblight and mildew.  Good for fresh eating with a mild flavour.
Wealthy – A very hardy variety once widely grown commercially; resistant to scab and mildew.  The fruit has a sweet, strawberry flavour.
Top of Form
Price: $35.00